Arnel Pineda's Heart of Rock Concert (Live @ Rockville 2-14-12)

Watching Arnel perform live in another acoustic setup that night was like watching Jeremy Lin make those shots one after another or Babe Ruth or Pele making homerun after homerun. It was like the Pacman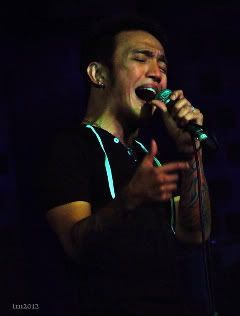 doing his rapid punches. And I mean one after the other. Save for the two slow and rather obscure songs that served as a break for my nerves and that of the audience, the thrill I felt that night for every song he sang was like watching an Ateneo-LaSalle basketball championship as they battle it out in a do-or-die game. If I can describe it in one word, it would be
'Pinsanity'
, with apologies to the guy who came up with the word Linsanity.
I was never more amazed than that night. This must be my third review and I hope I don't bore you with my superlatives. That night he displayed mad, mad vocals. And as I would often say, this was better than the last one, even as I feel that the last gig was a hard one to top.
Starting off slow with another great rendition of that famous duet of Olivia Newton-John and Bryan Adams' "Best of Me", which he did in an earlier gig last December, Arnel showed full control and confidence like he always did.
Arnel Pineda - The Best Of Me from Ferdie ArQuero on Vimeo.
With my slr and my point and shoot camera which I occasionally used, I was holding back screams and omg's about a dozen times. When he started out with the lines " I have climbed the highest mountains" my brain almost exploded. I was screaming inside, scrambled to take video, missing a few seconds of the beginning as a result. I thought I would lose it. Are you kidding me? This is my 2nd favorite U2 song! Even Bono would admit that this is one of the more vocally challenging songs in their catalogue. Yet he nailed it and spared no notes in the adlibs. His falsettos and improvisations were perfectly placed. Bravo, bravo, bravo. You can hear the audience reaction afterwards.
Hearing a well-rested, happy soon-to-be daddy of first daughter was absolutely phenomenal. That night, not only did Arnel prove to have the strongest set of lungs a performer can have - even with his size - he also had the courage to take on songs quite different from the genre that people are used to hearing from him.
Arnel also made sure he did not divert much from a song's arrangement just to suit his comfort zone. There is always that danger in doing covers when the performance becomes more about the singer rather than the song. In Arnel's case, he stayed close to them and enhanced certain notes only to add his personal touch but without overdoing it. Like how he ended Adele's award winning song "Rolling in the Deep." That is what you call respect for the original artist.
Talking about singing songs which I thought were outside his genre, Arnel went on to sing that classic southern rock favorite Creedence Clearwater's ditty "Have You Ever Seen the Rain." Another favorite of mine as well as my husband.
Another big surprise was when he did a mind-blowing version of Richard Harris' cover of MacArthur Park. Who would've thought! How about singing "The Prayer" next time?
But this song, gave me even more goosebumps. Nazareth's "Love Hurts." Crowd was delighted as you can hear.
Now there are bands whose music I didn't really care much about at that time it became popular. This was one of those songs I ignored back then simply because it reminded me of noisy drunken neighbors and loud jukeboxes from smoke filled bars that I abhor. But when Arnel sang it that night, it was like love at first sight. Just awesome. As soon as someone uploaded the entire song on youtube, I immediately converted it to mp3 and listened to it for God knows how many times for the next few days. Arnel has that uncanny ability to make me fall in love with songs I didn't care much about, until he sings them. Just exactly what he did with his rendition of Journey songs.
There were also the mainstays on his playlist like Air Supply's "Making Love out of Nothing at All", Bryan Adams' "You Don't Have to Say the Words", Styx' "Don't Stop Me Now"
He also sang a couple of Pinoy songs of his band (Ammo or Zoo). The new arrangement of "Ewan Ko Ba" was really cute and so was he as he performed it.
Then there's a new one written by Monet Cajipe called "Hindi Mo Lang Alam" I hope he gets to record this one, too.
It seems that an AP concert will not be complete without a song by Sting. That night he played the less popular but perhaps fitting for the occasion "Shape of My Heart". This is a beautiful, haunting song. However the only drawback for me is , the venue being a bar, the noise emanating from the surroundings which makes me wish that someday I'd like to see him perform in an auditorium or theatre sans noise from moving chairs, dishes and people looking for seats or chatting about their good ol' days or the traffic. If it is even possible at this venue, how about making an arrangement where serving food would stop once the performance starts. But that would be the OC in me.
I am among those who just want to listen to his voice, including the nuances, the cracks whether intentional or otherwise, if any, the breathing, occasional jokes he throws into the audience. Arnel has that tendency to talk fast and in a lower tone, that a few times I have to revisit the video on youtube to listen to what he said. And that is why, when rewatching them I would rather play the songs with my headphone on rather than turn on the speakers.
As the show drew closer to the finish line, one would expect him to slow down and end the show with less vocally challenging songs. But the exact opposite happened. I could see the crowd was in awe as I was. Instead he sang the crowd favorite Heart's "Alone" as he alone can belt it other than the original singer Ann Wilson. And then looking like he's just starting to have fun, went on to belt another nerve-wracking version of Sweet Child of Mine. Bezzzusss! We thought he was going to blow off the roof. Looking at the people around me, I could see heads shaking in disbelief. Some had that look as if in awe. Speechless. People were already standing up by then and waited to let him finish his last song. There were still calls for encore after the third one but he's got to preserve that voice for the upcoming show in Nashville.
The original setlist included a two-song medley as tribute to the late Whitney Houston who died just the day before the Grammy awards night. Yes Whitney Houston songs. Boy doesn't just have big lungs but a brave heart. However, the audience had been demanding of songs they'd love to hear him perform again. He sang instead Air Supply's Making Love out of Nothing at All. I thought someone almost died as you can hear from this video. This was also the part where he proves to me how strong his lungs were. Everyone knows how difficult this song is, not just for the high notes but for sustaining that voice at that octave. Whew.
Indeed that night, I see a more mature, more confident Arnel - unstoppable, impeccable. I find myself at a loss for adjectives. For sure his four years of working with a team of pros, his big brothers with Journey and its management, certainly paid off. The setlist was an excellent proof that he can master any song in practically any genre that requires honest-to-goodness singing. Rap may be a different genre but I doubt it requires real singing. Which is why watching his gig is, to borrow a line from the movie Forrest Gump, 'like a box of chocolates. You'll never know what you'll get.'
Once again, Arnel delivered an unforgettable performance that lingers in the hearts and minds of his audience for days. It's no longer just Arnelitis of staying too long on youtube watching his videos on repeat, but watching him live and eagerly waiting for the next gig to happen to see what more surprises he can give, listening to his golden voice try out new songs whether covers or originals. It's a kind of madness that he creates among his listeners. I doubt if any walked out of the venue not being a fan after watching him perform live for the first time. And it's just a sitting-on-a-stool Arnel Pineda that they witnessed. Wait til they see him perform with the big boys, flying in the air with his now trademark Air-nels. I am waiting for my turn. A little of him that he has shown in that little stage and yet he drove us all mad. It's P-I-N-S-A-N-I-T-Y. With such a truly unique and gifted artist, I hope the rest of the world that has yet to be won over will catch it.
*For the complete setlist and link to other videos, click on this link.
http://arnelpinedarocks.com/forum/index.php?f=45&t=3249&hilit=heart%20of%20rock&rb_v=viewtopic&start=20

Major thanks to all who shared their videos : Ferdie Arquero, lenargin, journellsky, garakyut, VivaArnel among others.